The Astronomy edition of the Monopoly game is the perfect introduction to a lifetime of cosmic exploration and enjoyment, Monopoly-style. Enjoy the thrill of risk-taking, deal-making and owning it all as you compete for comets, planets, nebulae, star clusters and galaxies. Buy, sell and trade Halley's Comet, Saturn, the Pleiades, the Orion Nebula and the Milky Way Galaxy. They are all yours for the taking.
Once you own the heavens you can create scope sheds and observatories so you can check out these spectacular sights. Charge your opponents for using your facilities, collect the most money and win the game!
This fun and educational game is completely customized with the stargazer in mind. It features six custom pewter tokens including Meade telescope, radio telescope, Hubble space telescope, Meade Binoculars, lawn chair and observation dome.
The Astronomy Monopoly game also includes tips on how to get started in astronomy and facts about the objects featured on the game board. This game promises friends and family a cosmic wheeling and dealing good time.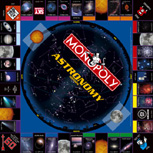 Game includes: Game Board • Title Deed Cards • Astronomy Money & Banker's Tray • Sun & Moon Cards • 32 Scope Sheds & 12 Observatories • 6 Custom Pewter Tokens: Meade telescope, radio telescope, Hubble space telescope, Meade binoculars, lawn chair, observation dome • Custom Black & White Dice • Rules • Educational Insert
---
(Information and pictures from USAopoly)