"The Big Apple"
Advance to GO! The Monopoly Brand introduces the New York City edition showcasing "The Big Apple." Experience the high energy, cosmopolitan culture, and grandeur of the Big Apple as you play this special edition of the world's most popular board. Monopoly Game: New York City Edition will provide you with an exceptional tour of the special landmarks and world-renowned destinations in the city that never sleeps.
With its five boroughs, including Brooklyn, Queens, Staten Island, Bronx and Manhattan, New York City offers an unmeasurable variety of foods, environments and activities. As the nation's largest city, with more than 7 million residents, New York City is considered by many to be the cultural and commercial center of the universe. With over 32 million visitors each year and 65 Fortune 500 companies headquartered in New York City, that claim seems indisputable.
New York City - if you can make it there, you can make it anywhere. In the New York City edition of the Monopoly Game, that means bankrupting your opponents first and the winner takes all!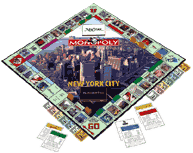 Game includes: Game Board • Property Cards • Play Money and Banker's Tray • Chance Cards • Community Chest Cards • Package of Studios • Package of Brownstones • 2 Dice • 6 Custom Pewter Game Tokens (Statue of Liberty, horsedrawn carriage, Big Apple, taxi, The New York Times newspaper, "I Love NYC" heart)
---
(Information and pictures from USAopoly)