Can't fit Mt. Everest into your schedule? Now you can! The Monopoly brand is proud to team up with National Geographic to bring you the Mountaineering Edition of the world's most famous board game. In classic risk-taking and deal-making style, you compete to own the most renowned mountains and trails in the world. Buy, sell and trade Mt. Everest, Mont Blanc, Annapurna I, Mt. Washington, Cotopaxi, El Capitan and the Matterhorn. They are all yours for the taking!
Once you own these remarkable peaks, you can build tents and base camps. Charge your opponents for staying at your properties, collect the most money and win! This fun and educational game is completely customized with the climbing enthusiast in mind. It features 6 custom pewter tokens: a climber, yak, canteen, hiking boot, rope, and tent. It also includes interesting facts about the mountains and trails featured on the game board. Did you know Mt. Everest has an elevation of 29,108 feet?
A portion of your purchase will go to National Geographic's support of vital exploration, conservation, research, and education programs throughout the world.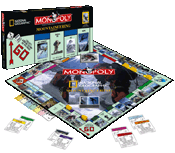 Game includes: Game Board • Title Deed Cards • Custom Money & Banker's Tray • Rope & Crampons Cards • 32 Tents • 12 Base Camps • 6 Custom Pewter Tokens: climber, yak, canteen, hiking boot, rope, tent • Dice • Rules
---
Information and pictures from USAopoly)