Connecticut, Maine, Massachusetts, New Hampshire, Rhode Island and Vermont are all up for sale. In classic risk-taking and deal-making style, you can compete to own the best of America's most historic region. Which do you prefer? The rocky Maine cost, the breathtaking White Mountains, or maybe New England's renowned clam chowder. They're all yours for the taking!
Once you own these incredible properties you can develope your New England empire with B & Bs and Inns. Charge your opponents for staying at your properties, collect the most money and win the game!
Whether it's a captain outrunning a nor'easter, a snow plower battling a blizzard or an antiquer hunting down a good deal, New Englanders love a good challenge. The New England Monopoly game promises friends and family a wheeling and dealing good time with a Yankee twist.
This game is completely customized with the New Englander in mind. It features six custom pewter tokens including church with steeple, lighthouse, lobster, clam basket, Minuteman and Gloucester seaman.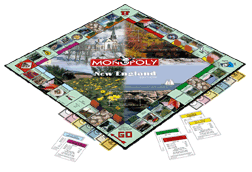 Game includes: Game Board • Title Deed Cards • Custom Money & Banker's Tray • Fall Foliage and Summer Beaches Cards • 32 B & Bs and 12 Inns • 6 Custom Pewter Tokens: lighthouse, clam basket, Gloucester seaman, church with steeple, lobster, Minuteman • Dice • Rules
---
(Information and pictures from USAopoly)