Lace up your skates as the "Original Six" hit the ice!
The MONOPOLY® Brand is proud to present the NHL® "Original Six" Collector's Edition of the world's most famous board game. This game commemorates the glory days of the NHL with the celebration of the "Original Six" hockey teams - Bruins®, Rangers®, Black Hawks®, Red Wings®, Maple Leafs® and Canadiens®. This collector's game captures and brings to life the vivid history of the NHL including the introduction of the goal light, the curved hockey stick and the goalie mask. This collector's game includes the best of the "Original Six" from each team's original jersey and the "Original Six" home arenas to the introduction of the Zamboni® and the most famous trophy in sports, the Stanley Cup®.
This very unique collector's edition comes complete with custom pewter tokens including a hockey net, goalie, hockey player, puck, Zamboni and skates. The traditional houses and hotels are replaced with Luxury Suites and Arenas.
Vie for first place as you compete for the ultimate win - Monopoly style!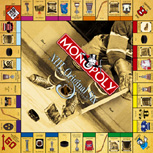 Game includes: Game Board • Deed Cards • Original Six Money & Banker's Tray • Dice • Hockey stick & Puck Cards and 6 collectible pewter tokens (hockey net, goalie, hockey player, puck, Zamboni and skates)
---
(Information and pictures from USAopoly)